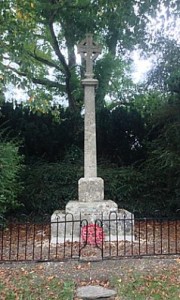 Last year the village of Alvediston made a huge effort to raise funds to restore its First World War memorial cross, which had over recent years been rapidly deteriorating.
To raise funds there was a History Weekend, including an exhibition at the local church and a talk by local historian James Holland. On Remembrance Sunday 2012 there was a lunch at the local pub where the pub donated £5 per meal purchased. In all, the villagers raised around £2,000.
The memorial has been restored with the help of a £1,262 grant from War Memorials Trust in the spring of 2013. In December 2013 The Wessex Branch of the Western Front Association donated a further £100 to the village war memorial fund to help to finish the project.
The village hopes to have the memorial project completed for November 2014.
The photo below shows the branch chairman presenting the cheque to village representative, and branch member, Amanda Bristow.